Well, I've missed a few posts due to having to go back to Ohio on short notice last week. I've been sick this week--flu-like fun. And I'll be heading back to Ohio to attend my great uncle's funeral at the beginning of next week.
Other than that, I do have some random things to share with you today...
There's been some debate about gender and book covers happening in many places this week...It was all kicked off by
Maureen Johnson
on Twitter, and has resulted in
Coverflip: Maureen Johnson Calls for an end to Gendered Book Covers with an Amazing Challenge (Images)
, and this
The Most Incongruous Book Covers of All Time
--those are especially odd to look at.
And today I watched this video about Gender in Advertising-- I love the reversed gender roles portion at the end, especially the Marlboro woman...
And to round out our gender extravaganza I'm including
Paul Richmond's Cheesecake Boys
and I'll throw in
The Hawkeye Initiative
for good measure.
Unrelated to gender, but related to book covers--
Good Show Sir
--the worst in Science Fiction/Fantasy book covers
Here are a couple roadsigns I've been meaning to share. These are actually to the south of where I live. I really didn't notice the elephant when I took this picture because everything was grey and it just blended into the surroundings. Yeah, really. I'm not sure if We Got Stuff is still in use....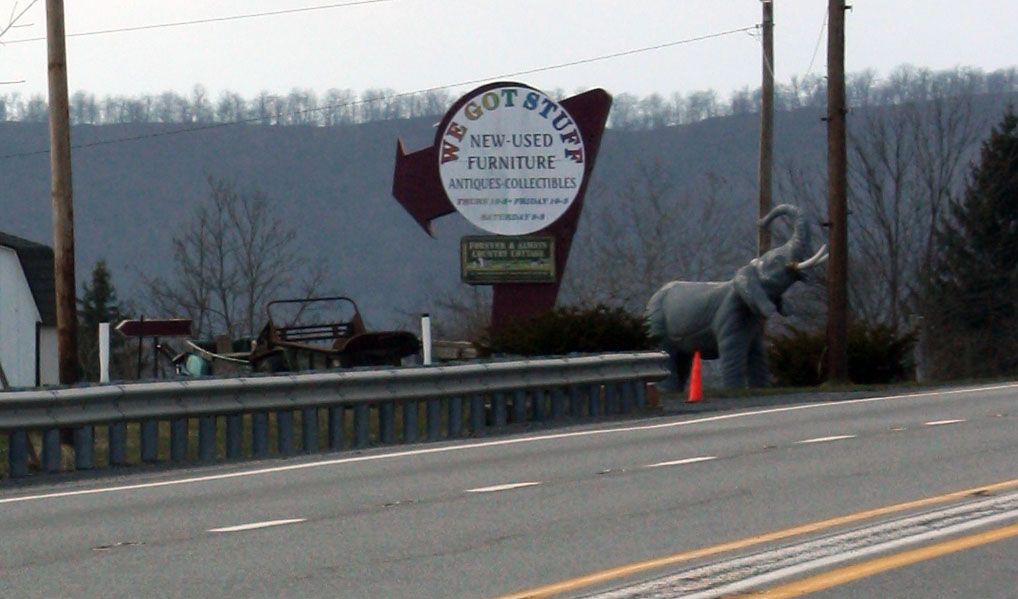 ...but this hotel is not. You could buy it though, but I'm pretty sure it wouldn't be a great business venture because there's not much of anything out that way. I really like that the sign advertises the presence of color TV's and phones in the rooms. Then there's the bright yellow roof which is probably the only reason I noticed it.
There's also a place with some signs advertising a hotel further up the road, but the hotel sign and an empty lot are all that remain once you arrive.
And this last picture is in honor of my birthday weekend. I'm turning 30 on May 12th and don't have anything much planned to celebrate it. I thought this picture was pretty absurd...
What I want for my birthday is for whatever viral illness I have to go away, and to find the presser foot screw for my sewing machine.The presser foot screw has earned the distinction of being the most annoying item that I've ever lost...And I've actually been to JoAnn Fabrics since it went missing, but it's so insignificant that I can't remember that I need to buy another....ugh