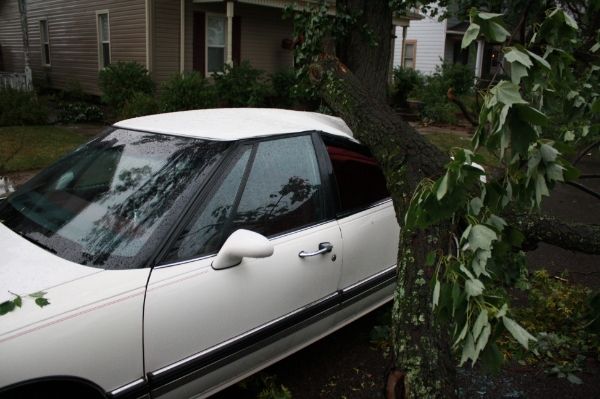 I like words a little too much, and I often notice how people talk about different experiences, situations and events. I also like to make lists, so I figured that I might as well share some of my lists.
For descriptions! For vocabulary! For word nerdiness! Onward!
Oh, and the picture above shows my grandmother's old car that was damaged by last year's derecho, and not a tornado. But anyway... this list is a short examination of a variety of words that can be used to describe storms. I heard some of these words while listening to the news, and then decided to add some more.
You can add more in the comments as well.
Also, here's the Weather Channel's
Weather Glossary.
Word List: Tornadoes and Summer Storms
accelerate
agony
barrage
barrel
chaos
churn
creep
darken
debris
decimate
deluge
desolate
despair
destroy
develop
dim
disaster
disturb
drench
drip
drive
drizzle
dust
ear-shattering
emerge
extensive
fading
flood
grief
gust
hail
heartache
hook
intensity
level
linger
lumber
misery
obliterate
overcast
pitch
pour
project
pummel
rattle
remnants
roar
ruin
scatter
severe
silence
soak
splash
splinter
still
stream
subsided
torrent
tumult
turn
twister
vortex