Voltaire with Wolfgang Parker opening for him, this show took place at Outland on Liberty on April 30th, 2010. My crew for the night included Melanie and James, we met up with Brannon and later Amber at Outland, but they didn't stay around the club that long.
Sadly this post will be a little short on pictures because I'm lame...not only that, but my camera really hated the darkness at Outland (which is tragic because there certainly is a lot of darkness there), and I wasn't that close to the stage so hardly any of my pictures turned out. A new camera is on its way with big fancy lenses that I'll hopefully be able to figure out.
This post will be generally short because I've gotten over my writer's block that I had, so I've been furiously trying to get the new ideas out of my noggin for my novel project before they're gone again. Well, the story is mapped out, I'm just filling in how to get from scene to scene.
Wolfgang Parker
is a punk, swing performer from Columbus, Ohio. He usually has a band with him, but at Outland it was a pared down ensemble featuring him and one other guy. I watched him a little bit and then listed from further away.
I was unfamiliar with his music, but will definitely be checking it out a bit more. I liked his bluesy vocals and the overall sound of his songs, very swing or a more mellow Rockabilly sound.
I appreciated his rather unorthodox and hilarious tribute to Johnny Cash's "Folsom Prison Blues."
I really wanted to get this posted today in case anyone who stops by here is interested in supporting Wolfgang Parker's Victorian Horror graphic novel titled
1888
. It seems like a pretty neat project and if you contribute enough money to it you can be included in it. The contributions have to be pledged by May 24th.
Since I'm pretty sparse on material for this I'll go ahead and provide you with one example of Wolfgang Parker's music.
So later on
Voltaire
's set took place and this is what I remember from that. I think was a little easier to remember because he did some jokes in between songs. He started out with "Dead," which did not get enough response in his opinion.
Some other songs he played during this portion included "Death, Death, Devil, Devil, Evil, Evil Song," "Ex-Lover's Lover" and "Zombie Prostitute" which he dedicated to undead ladies who are trying to make a quick buck, or to all the women who dress up for zombie walk...or something along those lines.
He played two country-inspired songs that still had his usual spin. The songs were both pretty good, and that fact made me forget that they were "country" songs. These videos are not from the Outland show, but I linked to the best videos that I found on YouTube, because these two songs are worth a listen.
Small Town
and
All Women are Crazy (All Men Are Dumb)
. Those songs did sound a lot like Rockabilly, which is a term that appeals more readily to the alternative crowd, even though it is a form of country.
Some other songs from the evening include "Brains!", "Dia de los Muertos", "USS Make Shit Up" and "Comin' Out for Christmas." He also ordered a drink from stage,
He launched into a couple different songs, including "Freebird," to mess with people before finishing his set with "When You're Evil" which he probably could've made it through without singing any of the words himself because everyone was singing along. His shows always seem like they could be renamed "Drunk Goth Singalong with Voltaire."
Part of Voltaire's performance from the night:
We got to talk to Voltaire a little bit after the show, got pictures, and he signed my copy of "Paint It Black: A Guide to Gothic Homemaking."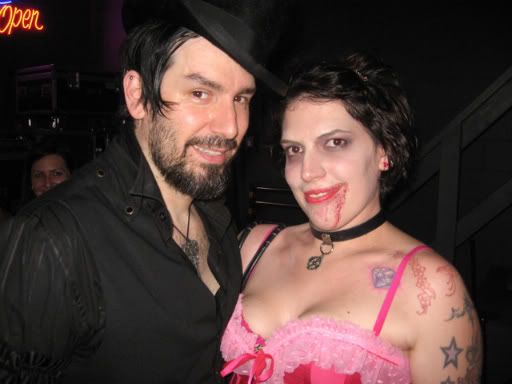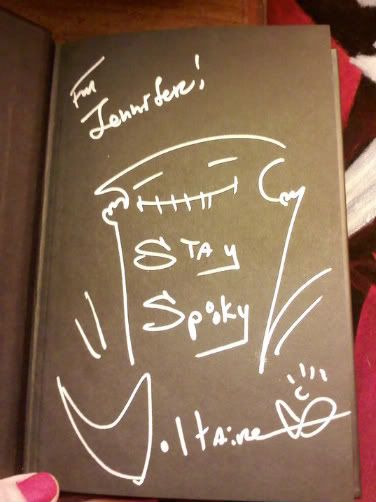 Sorry for the especially quick and dirty treatment of this review, as I wrote this my fancy pants camera was dropped off by the UPS guy. I have until Friday to figure this thing out.
Assemblage 23 show at Skully's (Angel Theory and Encoder are opening) on May 7th, just bought my tickets yesterday.
Onward to other projects.