Here is the story of the April 20th, 2010 Deadstar Assembly and Filament 38 Show (or "How I got to Cleveland and how I returned home. Oh, and I saw some bands there too, and some girls with metal underpants.") This was getting to be too massive, so I'll be writing this in a series of three posts.
Part 1
Part 2: Priorities, and watching Filament 38
The GPS did not believe that
The Breakfast Club/HiFi Concert Club
existed, so it took a little driving around to find the correct address. Parking was easy enough, there was a parking lot right beside it and the meters on the street were free in the evenings. The area looked kind of like the Short North in Columbus, so it was a bit of a mind fuck for me, or maybe that was just a result of the massive quantities of coffee and energy drinks I had imbibed during the day. I finally got my chance to walk around, twitch, and didn't feel much better. We went to stand in line at the door. Doors opened around 8:30pm. I had never been to The Breakfast Club before, but it was a good enough bar. The bartenders were cool, the floor by the stage was interesting and the bathroom that I saw was clean. It was definitely a comfortable enough place to do some drinking and hang out.
First priority: Make it to the show. Second priority: Keep in mind that I have to drive back whenever that time comes. The second priority made way for the third one, which was "Actually buy some merch this time." That rule was made thanks to my lack of cash at the Apoptygma Berzerk show in Columbus that I previously wrote about
here
and
here
.
We checked out the leather items for sale from
Crow Leather Works
. Combating the caffeine jitters with alcohol, it kind of makes sense. We decided to do some drinking, I did a couple shots of Jäger, and we both had PBR. I never drink beer, but felt inspired by Melanie's story of getting wasted on PBR and stealing a CD from some hippies when she was in Athens at OU. It sounded like a good time. My husband didn't believe I was drinking PBR so I had to send him a picture.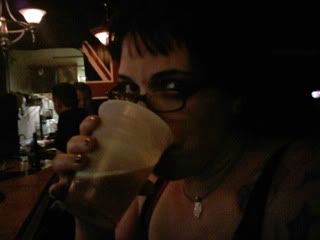 The bar was playing some electronic stuff along with some Nu-Metal before the show, so it was kind of a flashback. I remember hearing
Adema
and
Union Underground
.
I made my first merch purchases next. Buying a F38 shot glass and their Frail EP. Their CDs can be purchased at the
-NGP+ Store
. I got a pin and a sticker along with my purchase, so that was pretty cool. I wandered around a little more before buying my Deadstar Assembly stuff (some of their merch is available online
here
), I wanted a t-shirt and the new Coat of Arms CD, but they had a "Ladies Night" deal, which included a t-shirt or tank top, booty shorts, the CD and three pins for $40. Good enough. I got the more boring-looking pins. I'm weird about having pins with pictures of individuals on them because it reminds me of High School marching band when the parents would wear their kids' pictures on badges. Creepy.
Anyway enough about my High School neurosis, I talked to the merch guy for a bit, then went to watch Filament 38.
Their show this time went smoothly, without the technical difficulties of when I saw them in Columbus opening for Apop. The last show in general that I went to was at Outland (
Only Flesh and Cult of the Psychic Fetus
), and I felt there that the sound system, especially when Only Flesh was playing, wasn't loud enough. This night at The Breakfast Club everything was definitely loud enough which was pretty cool because when the music is loud enough it kind of takes you to a different place and shuts out the world outside. Maybe that's just the deafness setting in, but it is a fun experience. It was loud, but not to the point where I could feel the bass pounding through my ribcage, that's a whole other experience.
I believe that I remember hearing F38's songs Frail and Catalyst, but since this was Melanie's first Industrial experience and I didn't have my group of people to help me, I can't fill in the blanks in the set list. That's okay though, everything sounded a lot smoother than last time because it seemed like the technical issues that they had in Columbus were resolved.
Their light show and fog machines were pretty impressive again. I did not take any video of F38, I mostly got distracted by enjoying the music and trying to photograph the band members that I did not get pictures of in Columbus.
Here are a few of the pictures I did take of Filament 38:
Filament 38 is an Industrial/EBM group out of Cleveland, Ohio. They are comprised of Ash and Sigma, but while doing live shows they add Creep and Jason K. You can find them on
Myspace
and
Facebook
.
To be continued...