The story:
March 19th 2010, I wrote about
Filament 38
the other day, and I'm not going to write about
Stygios
because I was at the bar and more focused on how many shots of Jäger my husband would buy me instead of paying close attention to their set. Sorry about that... when I was paying attention their 3rd song sounded pretty sweet, but I have no idea what it was.
Okay, so we'll start with some music. Apoptygma Berzerk did not play this song that night, but it is my friend's favorite Apop song, so here it is.
Some places online where you can get more information about
Apoptygma Berzerk
(
Myspace
,
Twitter
,
Facebook
).
A brief story. After Filament 38's set and before Apoptygma Berzerk started I texted my friend who was coming in from Chicago because her lovely company of employment had the audacity to ship her out for training on this, the week of the Apop show. The time was running short, but we talked. Amanda's plane had landed and Gary was at the airport, they were en route to Skully's. They only needed two dollars more for their admission. We had plenty of dollars at that time. We waited outside and befriended some people out by the tables out front. James handed a dollar to the guy who requested one, but he determined that it was cursed and no longer had need of it.
Amanda and Gary arrived. There was much rejoicing and we would all be seeing Apoptygma Berzerk.
We purchased more drinks and went over to chill by the stage.
Apoptygma Berzerk started out with Starsign. I really don't recall the set order for the show, but what I remember (in no particular order): Starsign, Eclipse, Apollo (live on your tv), Love Never Dies, Deep Red, Shine On, In This Together, Until the End of the World, Kathy's Song, Mourn, Unicorn, and Non-Stop Violence.
What stood out to me the most: "Apollo (Live on your tv)," oddly enough I haven't really liked this song any time that I've listened to it before, but seeing it live made me actually love it. "Deep Red," a really cool song and quite different, darker-sounding, than their other songs. It was really nice to hear it live. "Non-Stop Violence" and "Love Never Dies" are tied as my favorite songs by Apop, so I was really happy to hear both of those as well. I like the variety in their music and, while I know some people did not like their move away from electronic to a more mainstream rock sound, I really think that most of it sounds rather good. I do prefer the older songs, but the new ones are not bad, they're just a different style and it is impressive that whether electronic or rock Apoptygma Berzerk does quite well.
Although Amanda was somewhat disappointed because they did not play Suffer in Silence.

The first 11 seconds of "Love Never Dies"--the camera was being weird and somehow the video is in two parts.


The rest of the song, well right up until the memory card went "OMG too much stuff"

In general I think that Apoptygma Berzerk sounds better live, not that the recordings (which I believe are completely done by Stephan Groth) are bad or lacking, there was just a vast energy in the live show. Friday night was an exceptionally fun show in general.
They left the stage and we kind of followed out to the smoking patio because I've been smoking much more than I usually do as of recently, especially when I go clubbing. Sorry lungs. Stephan Groth was out there signing a t-shirt and we thought about asking him to sign the "I <3 Amanda" sign that I've been carrying around to show my adoration for my drinking buddy when she was acting emo in Chicago. I handed a pen and the notecard to Amanda. Stephan was cornered by a blonde girl who was quite chatty. I kind of heard what he said as he made his escape back into the venue, but it wasn't processing in my brain. Amanda better relayed it to me, "Apparently he had to go wash out his armpits."
Well played, Stephan. So the quote of the night award would go to him.
James, Amanda, Gary and I decided to set out for our next adventure. The night had entered the "Let's take cell phone pictures" hour, so we wandered off and found "The Garden Church" sign to be especially funny because there is a sex shop across the street called "The Garden." We then went to a Steak 'n Shake where we probably disturbed the people there with our loud talk of this guy we knew and his tattoo which he got in tribute to Apop, which would be the crop circle design on his arm,...and what little fantasies we suspect that he has involving those tattoos. We'll just leave it at that.
Although the 2nd place quote of the night award was involved with that disturbing mental image. Good job, James.
I was home and asleep around 4am, then awake by 8:30am. I started working with the pictures then, but once again I wasn't too thrilled with the camera's results. Oh well, here is what I liked from the 100 plus pictures between James and myself.
The pictures: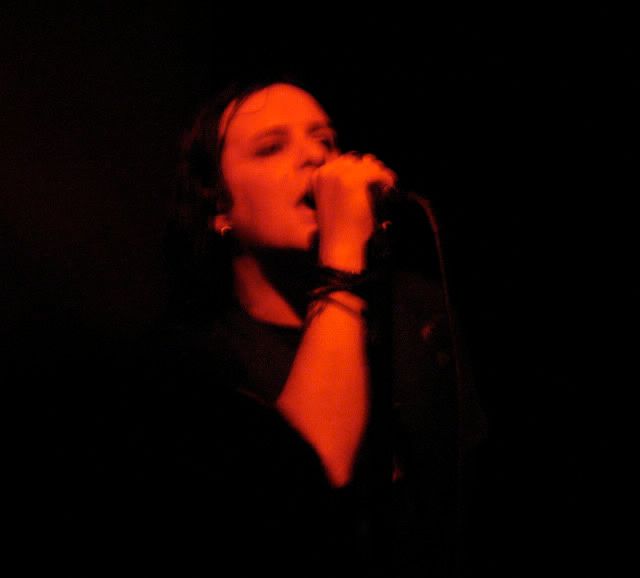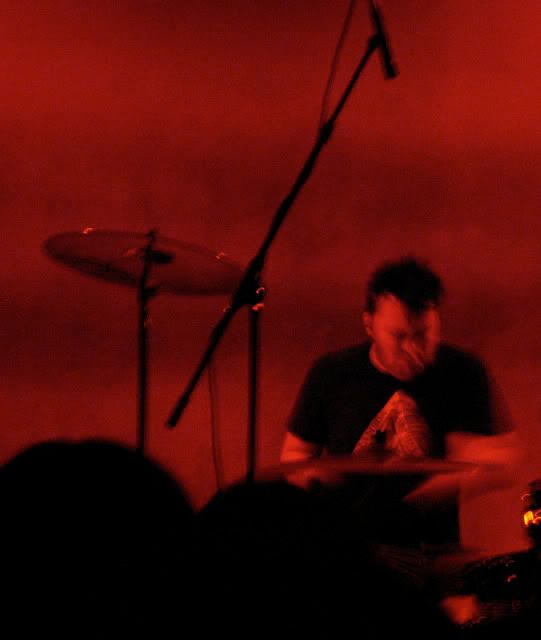 During the encore, some people cleared out and I could get a bit closer to the side of the stage. All of these pictures are from the 3.2 megapixel camera on my cellphone, as opposed to the 6.0 megapixel Canon PowerShot A540 in the previous pictures.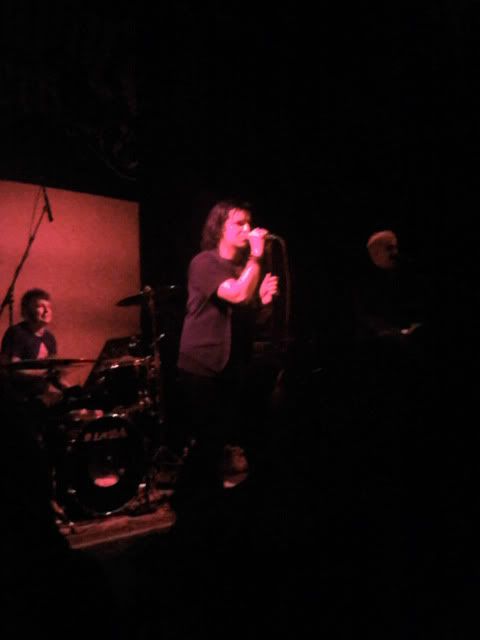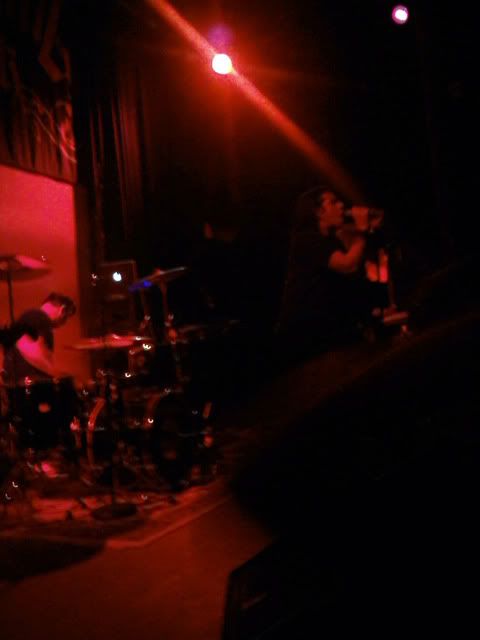 The following picture is interesting to me, but not that great as a picture of a person...does that make sense? Anyway visually interesting, but when I tried to make it a little clearer the red and black was not agreeing with any image editing software at my disposal.
Actually the camera had issues with the red lighting, it always seems to pick up more red than it should in the first place, so a lot of my pictures turned out that way. Here's another one that I liked, but is kind of tough to see.