I just finished cleaning up my Filament 38 pictures, but haven't sorted through all of the Apoptygma Berzerk pictures yet. I did post my decent enough Apop videos to YouTube already and I think
this link
will take you to my channel. I did not get any Filament 38 video.
And what I have learned from this show is that I need a bigger memory card, or more of them...and maybe a better camera because James' camera is confusing and I still haven't learned how to use it that well (my camera met with an unfortunate sink accident last summer).
Onward.
Some music for your listening enjoyment.
Filament 38
(
myspace
) is an Industrial band out of Cleveland, Ohio. I know that I have seen them perform once before, but right now I have spaced out on where that was exactly. Okay, just cheated and looked it up on their past shows list, I saw them in 2007 at Outland 2.0 with Encoder, Imperative Reaction and Assemblage 23. Also, looking at their past shows list I found out that my husband has actually seen F38 three times, since he saw them open for Bella Morte at Outland 1.0 in 2002.
Friday night, I liked the overall sound and the live show sounded rather well put together despite technical difficulties. It wasn't the first show that I've been to that had some of those. I don't know the names of all the songs that they played, but they do have a new EP titled "Frail" which you can buy at their shows, and will be available to purchase online soon from
-NGP+ Store
. I did not purchase their CD at the show because I drank all my money that night--oops.
I wish I had gone to the Saturday night show at Outland 3.0, but I was stupidly tired from being outside in the sun all day. I'm pretty sure that on May 16th I will be making the journey to Cleveland and seeing them with 16 Volt, Chemlab, Left Spine Down and Defcon as part of my birthday weekend thing. My birthday is actually on May 12th, but I'm not good at limiting parties to any particular day. I may try to get to the Deadstar Assembly show in Lakewood, Ohio on April 20th, but I will have to see what funds and time I have.
My crappy camera couldn't handle all the awesome produced by F38 and their kickass fog machine. I took at least 80 pictures and these are the ones that I actually liked well enough to edit and post. The fog kind of reminded me of when I ran a bunch of lighting equipment, and the fog machine, for the LHS Percussion Ensemble back in High School. Oh god, the flashbacks.
Anyway, here are the pictures I did get. I could only see Ash (lead singer and programmer) and Jason K. (guitarist) most of the show, so those are the people in my pictures. Sigma and Creep would be the members of F38 that I could not see.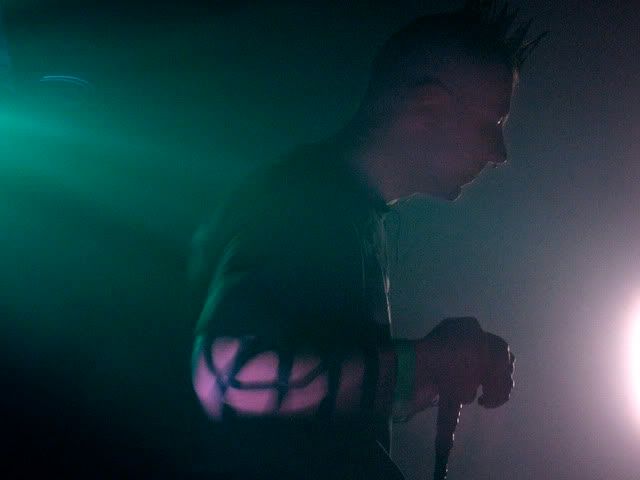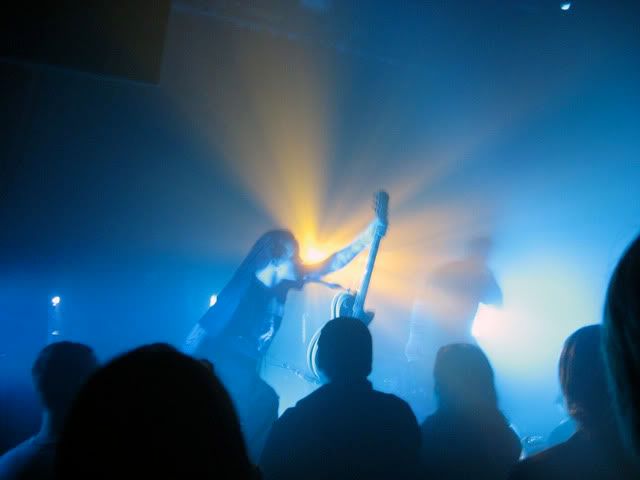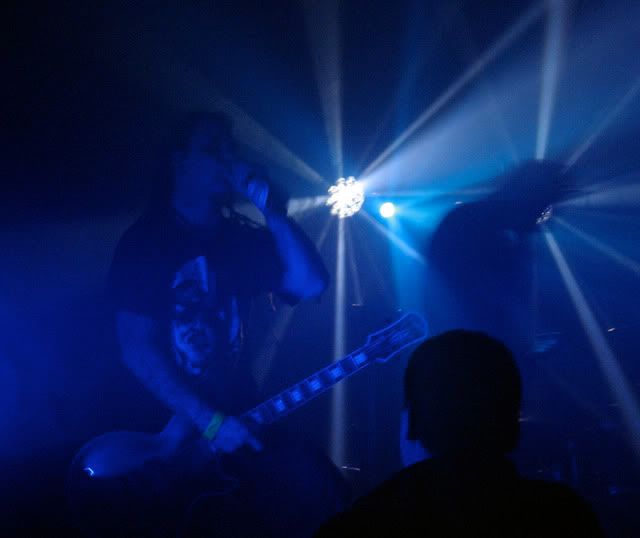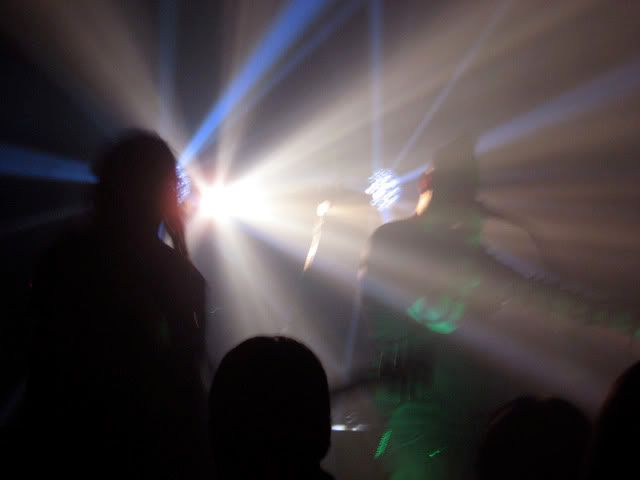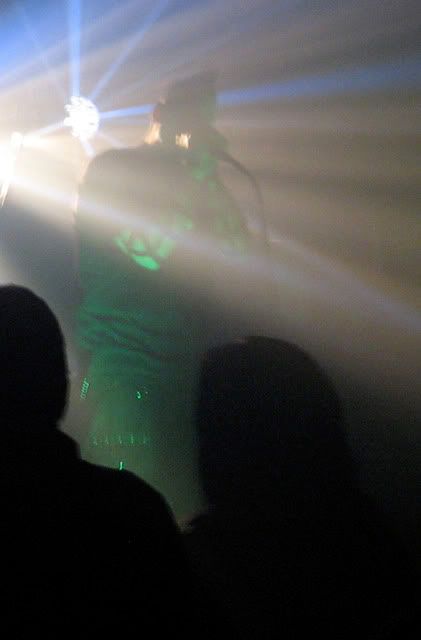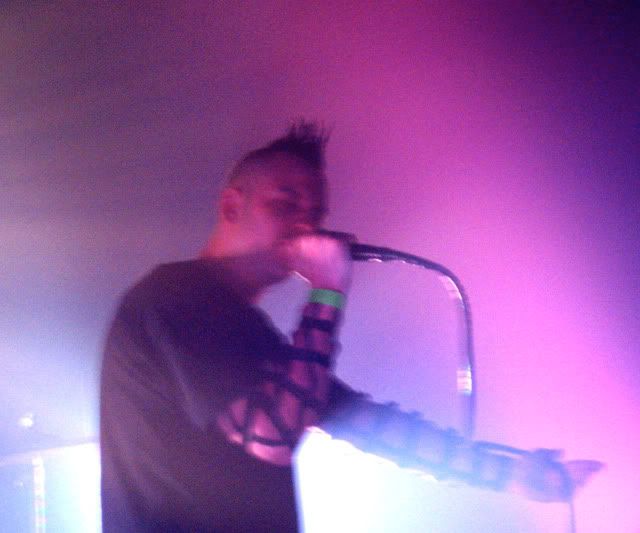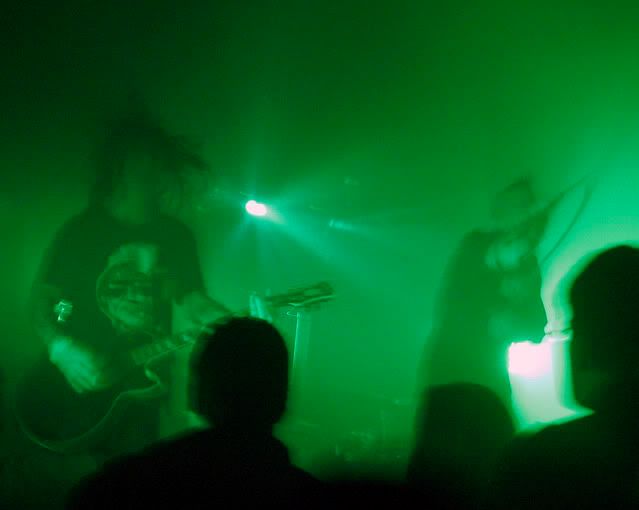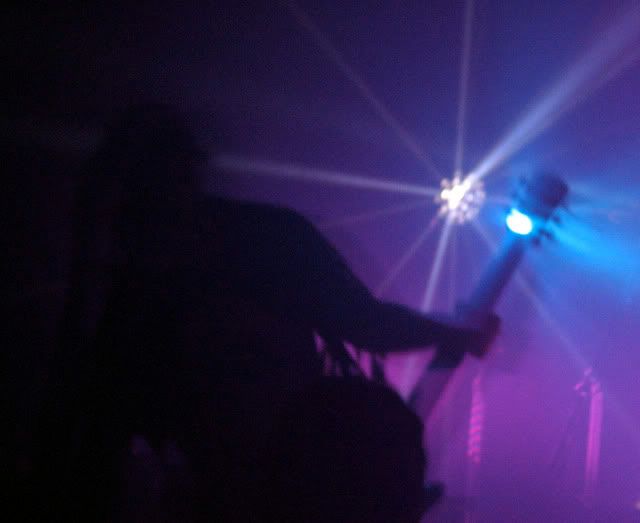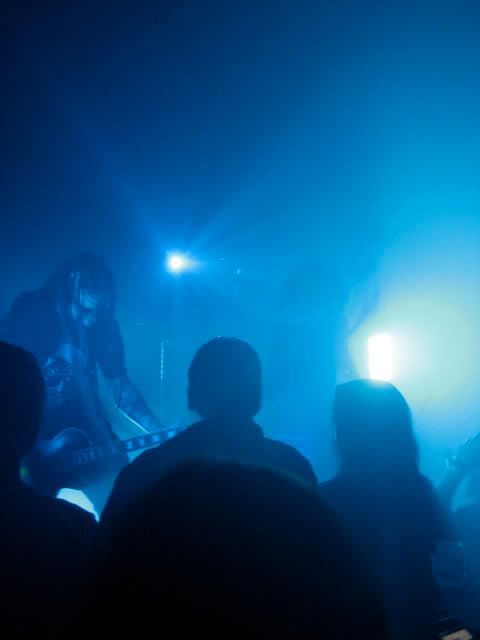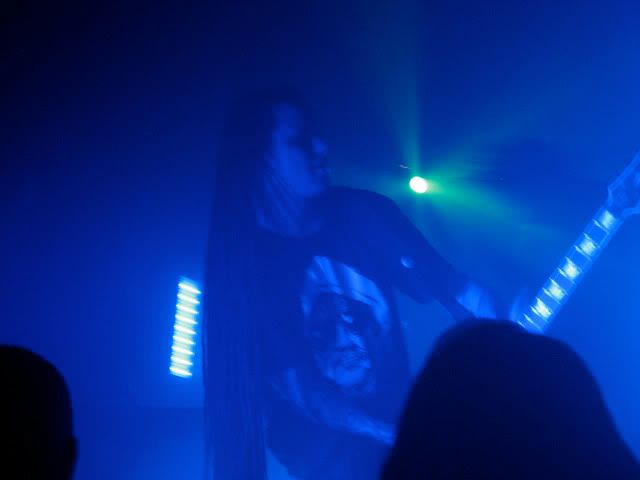 I think I've been warped by too many art classes, but there's something about this following picture that I really like. Probably because of the lights, and silhouette of the girl who was taking a picture. If only the heads had been melted off of those people in the front who were blocking most of the stage... oh well, I guess I'll have to get closer to the stage next time.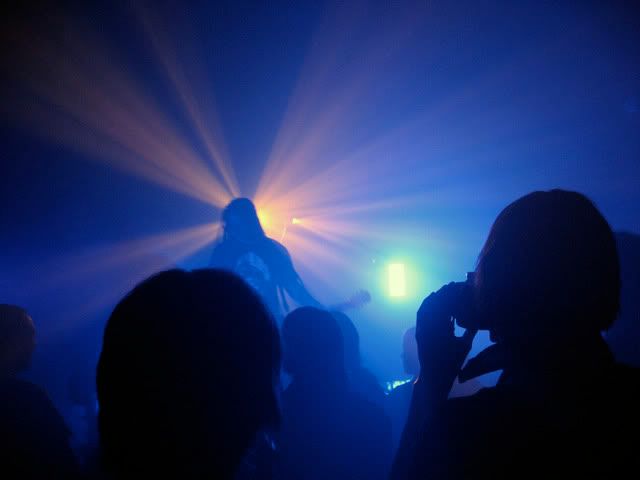 There will probably be one post between this one and my Apoptygma Berzerk pictures because, since it is well after midnight on March 22nd currently, today is my 2 year wedding anniversary and I wanted to post at least one wedding picture. I'm going to work on something for my novel project now, but I'll be back editing pictures in the morning some time.